Review: The Fine Art of Pretending by Rachel Harris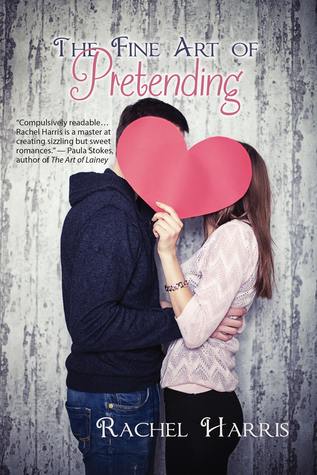 The Fine Art of Pretending
(
The Fine Art of Pretending #1
)
by Rachel Harris
Paperback
,
256 pages
Published September 30th 2014 by Spencer Hill Contemporary
According to the guys at Fairfield Academy, there are two types of girls: the kind you hook up with, and the kind you're friends with. Seventeen-year-old Alyssa Reed is the second type. And she hates it. With just one year left to change her rank, she devises a plan to become the first type by homecoming, and she sets her sights on the perfect date—Justin Carter, Fairfield Academy's biggest hottie and most notorious player.

With 57 days until the dance, Aly launches Operation Sex Appeal and sheds her tomboy image. The only thing left is for Justin actually to notice her. Enter best friend Brandon Taylor, the school's second biggest hottie, and now Aly's pretend boyfriend. With his help, elevating from "funny friend" to "tempting vixen" is only a matter of time.

But when everything goes according to plan, the inevitable "break up" leaves their friendship in shambles, and Aly and Brandon with feelings they can't explain. And the fake couple discovers pretending can sometimes cost you the one thing you never expected to want.
Hello! Anyone out there? Yes I realize it's been a LONG time since I've written a review, but I figure late is better than never right?
If you're new around here I'll do a quick run down of how I do my reviews. First I start with the cover because even though we all claim that we never judge a book by it's cover, we all know that we do. A little. Plus, covers are often neglected and that makes me sad because someone is doing a butt load of work in order for us to be wooed by the pretties.
Then, I go right into what I like and what I didn't like. I don't really give a synopsis because I feel like that's what the blurb that's already printed does, and I hate spoilers of any sort.
Then, if I'm in a good mood I usually give a little blurb of who I think would like the book.
Alright! Onward!
The cover is adorable as heck. I think the heart shape cut out that covers the models faces accurately depicts the way both Brandon and Aly feel about each other throughout the book. They're close, and looking right at each other, but they're trying to hide from the world, even though the world can CLEARLY see that they're fibbing.
I honestly loved this book. I've been in a bit of a reading rut and leave it to my long time fav author and friend(?) (I'm even mentioned in this book's acknowledgements! squeeee) Rachel Harris to get me out of it. This was the first book I've read in MONTHS (painful, I know) and I'm so glad that I chose this one to get me going again. It was witty, fast paced, full of swoony moments and had great characters. Be forewarned that there is some strong language, so if you're not ok with the occasional f-bomb then you might want to skip over it.
5 Triquetras! Make sure you go give this a read!!
About The Author
New York Times
bestselling author Rachel Harris writes humorous love stories about sassy girls-next-door and the hot guys that make them swoon. Emotion, vibrant settings, and strong relationships are a staple in each of her
books…and kissing. Lots of kissing.
An admitted Diet Mountain Dew addict and homeschool mom, she gets through each day by laughing at herself, hugging her kids, and watching way too much Food Network with her husband. She writes young adult, new adult, and adult romances, and LOVES talking with readers!